The PGA Tour heads to lovely (?) Detroit this week for the Rickie Fowler Rocket Mortgage Classic. A slightly less star-studded field will take part in the event at the par-72 Detroit Golf Club.
Will another big name win this week or will the trend at DGC continue with less known names bringing the home the hardware and the Fed-Ex Cup points.
HOW TO WATCH
Thursday (All times Eastern)
PGA Tour Live: 6:30 AM – 6:00 PM
Golf Channel: 3:00 – 6:00 PM
Friday
PGA Tour Live: 6:30 AM – 6:00 PM
Golf Channel: 3:00 – 6:00 PM
Saturday
PGA Tour Live Featured Groups: 8:00 AM – 3:00 PM
PGA Tour Live Features Holes: 3:00 – 6:00 PM
Golf Channel: 1:00 – 3:00 PM
CBS: 3:00 – 6:00 PM
Sunday
PGA Tour Live Featured Groups: 8:00 AM – 3:00 PM
PGA Tour Live Features Holes: 3:00 – 6:00 PM
Golf Channel: 1:00 – 3:00 PM
CBS: 3:00 – 6:00 PM
THE FIELD
Not as many big names in the field as the last three weeks, but still plenty of star power, including Rickie Fowler and our favorite duffer of late Bryson DeChambeau.
There are some pretty interesting groupings.
Bryson, Patrick Reed & Hideki Matsuyama
In mentioning the course design on Tuesday, Bryson noted the number of fairway bunkers that are 290 yards from the tee. He also said flying those would not be a problem. SWAG. I'll enjoy hate watching Patrick Reed. Does anyone else do that. Whenever he three-jacks and shanks one it's like a shot of pure adrenaline for me. Hideki will look at his partners and think that Americans are all insane.
Rickie, Webb Simpson & Nate Lashley
Rickie is coming off back-to-back MC and since he's sponsored by Rocket Mortgage will be seeing plenty of him. He hasn't played bad in the restart, he just hasn't been able to stay in rhythm. He'd take take a step forward with an eagle and follow that up with two bogeys. Here's hoping he puts it together in Motor City. Webb won in his last start at the RBC Heritage after taking last week out of precaution since a member of his family tested positive for COVID. He's been doing everything right so far and look for another strong finish. Nate Lashley. WHO. Nate Lashley won the 2019 Rocket Mortgage Classic by 6 strokes and led outright after all four rounds. Since 2010, every other player to do that on the PGA Tour (Rory, Martin Kaymer, Day, JT) has been ranked number one in the OWGR at some point in their careers. Impressive stat!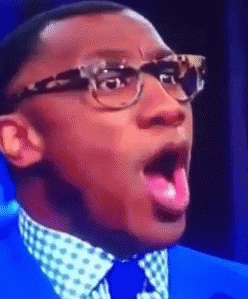 Bubba Watson, Jason Day & Brendon Todd
Bubba is always fun to watch. I lowkey think I'm a Bubba guy. Feels weird to write that, but I'm happy it's out there. Jason Day is Mr. Glass. Ever since reaching world number one he's been a mess. Brendon Todd is coming off the worst Sunday for a 54-hole leader in a long time. Let's hope he's like good CB and has short-term memory. Also, couple of big-time ugly criers in this group….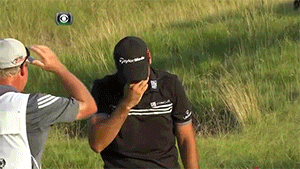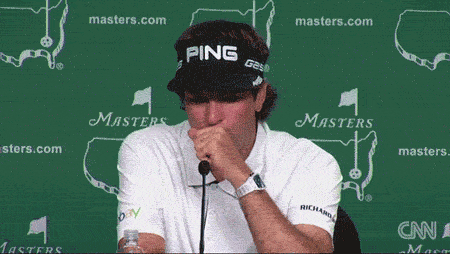 Brandt Snedeker, Tyrrell Hatton & Sungjae Im
Brandt Snedeker is like white toast. He just is. He exists. No one is going to crazy for him, but he'll get the job done. Everyone knows how I feel about Tyrrell he's an absolute loose cannon and a joy to watch. Basically, he's the opposite of Sungjae Im. Im is a silent assassin. He is the PGA Tour's ironman. Just plays every event under the sun.
Wesley Bryan, Harold Varner III & Viktor Hovland
This should be a fun group to watch. Wesley Bryan has been going viral every damn round for his talking to his ball and dropping clubs. We at Found The Hazard are big fans of HVIII. Hoping for another strong week for him. There's something about Hovland. Everyone knows I'ma Team Europe guy and he's the future for them in the Ryder Cup. Amongst the young guns, everyone talks about Wolff and Morikawa, but Hovland is a DUDE.
He Sunday outfit at the Travelers was absolutely stunning. Shout out Oklahoma State. #GolfSchool
WHO DO WE HAVE WINNING IT ALL
Steve: This is not the week, guys. This isn't it. Rory has the week off. That means I'm going with our boy Gains Stewart. That's right, Bryson DeSLAMbeau is finally going to break through. He's going to put it all together and pick up his sixth career win. Winning score, let's go -19. Everyone has been going crazy low of late.
CWalks: Tyrrell Hatton this week. I like this guy, every start this year he's been in contention. He's just a straight up player. Five events, five cuts, four top 10's. I loved the passion he showed at the RBC and I want to see it again on Sunday this week. Let's give the Englishman a win! -22… he's going LOW!
Foster: Last week, I took the scientific approach and it bit me in the ass. Time for a 180 – I'm going with my gut. And, for no apparent reason, my gut says Tony Finau. Three top-10s this season for Tony and his 4th will be a victory. 20-under brings it home.