While there are still a few guys left to finish round 2, they aren't going to catch Collin Morikawa after 36 holes. What a great way to bounce back after missing a cut the week prior. Morikawa went on to back up his opening round 65 with a solid 6 under round of 66 including 3 bogies in the round! That's crazy!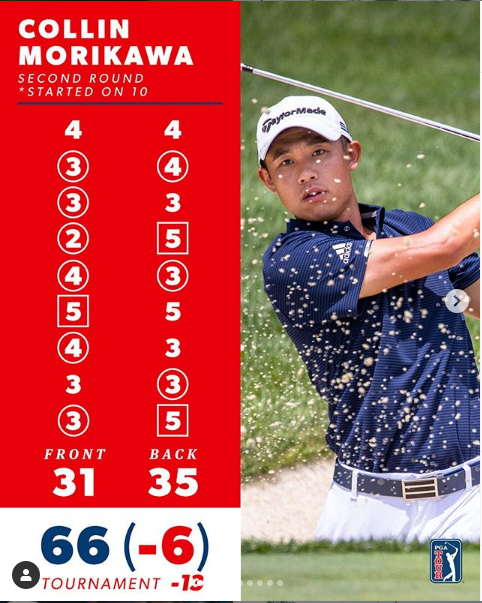 Collin has been absolutely lights out at Muirfield Village, which is amazing because we are seeing so many guys struggle here at this 7456 yard beast of a course. So far this week, Morikawa has been throwing darts on his approaches which has given him some great looks to make birdies which you're definitely going to make when you are averaging 1.536 putts per green in regulation.
While Morikawa has made it look easy, it hasn't been all sunshine and rainbows for a lot of other guys who we won't see make the cut. Jordan Speith is continuing his roller coaster play and has been unable to break through and shoot under par. MuirField is also getting the best of the former Olympic gold medalist Just Rose who finished the weekday rounds +10. We also have to mention Matthew Wolff, who posted a 2 day +5 total making us look really bad after just featuring him in our young gun blog.
It stinks not to get to see these guys through the weekend, but there's still plenty of names topping the leader board that should be fun to watch. Heading into today it's honestly anyone's tournament, there's a solid grouping of guys at at least -5 including Justin Thomas and Hideki Matsuyama who are only a few shots back. It seems like 8 shots off the lead is a lot, but the way this golf course is playing, anything can happen.
Due to a round 2 suspension due to darkness, we will have to wait until later this afternoon to get things going in round 3 to see if Morikawa can keep up this pace?