Ok, that title seems like clickbait.
WithDrawls
Cameron Champ
Brooks Koepka
Webb Simpson
Chase Koepka
Graeme McDowell
Chesson Hadley
Daniel Berger
Steve Stricker
Some other guys no ones ever heard of
Stupid Coronavirus. Can we talk about how once again the guy I pick to win the weekend won't be in contention. At least this time, it will be because he's actually just not going to play, so I will get a little relief from being roasted by my counterparts, but I digress.
Brooks Koepka and Webb Simpson along with several others either decided to or were forced to drop out of the Travelers Championship set to start tomorrow after concerns of potentially being exposed to people who tested positive for the Virus. I respect these decisions, Brook's caddie Ricky Elliot tested positive for COVID-19 along with Ken Comboy who caddies for Graeme McDowell. Realistically, there is a good chance Brooks or Graeme could have contracted the virus, so its respectable these guys took the responsible action and looked out for the safety of the rest of the field showing up to play this week. I'm sure this wasn't an easy decision considering the amount of money they are giving up and it's certainly something the fans didn't want to hear.
— Brooks Koepka (@BKoepka) June 24, 2020
It's easy to assume since they are playing outdoors with limited people allowed to enter the grounds that its a relatively safe environment, but after watching last week and seeing the range at Harbour Town, it looked like WoodStock in 1969. Guys were just jammed in the roped off range with no masks on, and it wasn't just players, it looked like a bunch of randos just walking aimlessly too. Pretty reasonable to expect this though, seems like the folk down south think the corona is a bunch of BS.
I know a lot of guys are criticizing the area around Hilton Head for the lax restrictions, or lack there of any, but I honestly think the PGA holds a lot of blame on this as well. They should understand the variation of response in the areas they have chosen to host tournaments and should be more proactively enforcing player restrictions. Sure they have a made a public statement around tightening restrictions, but to little to late, proactive measures always trump reactive, and the PGA clearly didn't take the proactive approach last week and now its put the remainder of the season in jeopardy if they don't get their act together.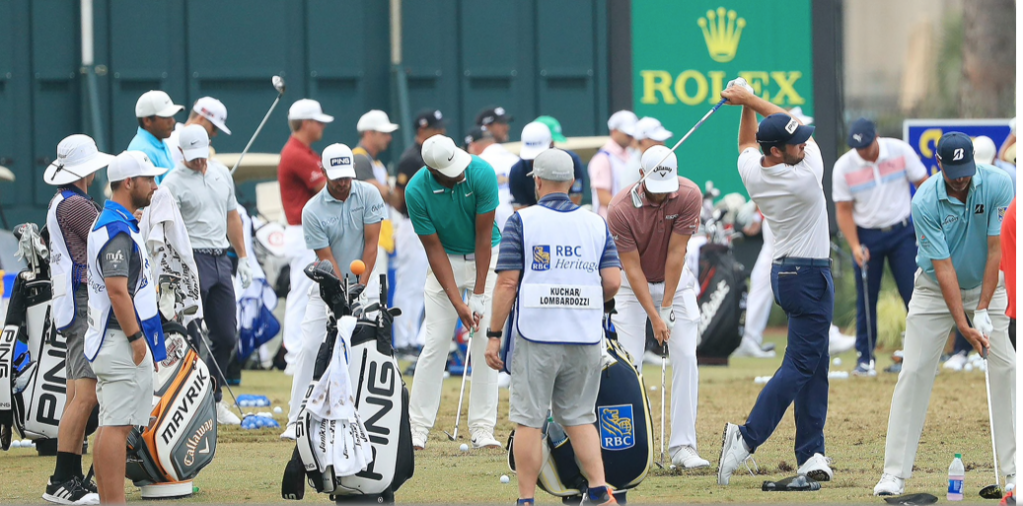 Cameron Champ, who clearly took advantage of the PGA not monitoring player restrictions, thought it was a smart play to get rubbed down in the locker room (allegedly) to help loosen up his tender 25 year old muscles caused an absolute panic after discovering he tested positive. It's pretty much caused every news outlet to latch onto it and start questioning whether the PGA has made a good decision to continue the season. Don't worry though, cameron says he feels physically great. We know you're fine Cam, you're not a 77 year old male with a heart condition. We're more worried about the fact that you just raised concerns for the tour to legitimately consider if moving on with the tour schedule is really a good idea all because you couldn't stretch in hotel room. Ah, maybe thats a little bit of a baseless statement, but it sounds decent, so I'll run with it.
@Cameron__Champ how'd that physio session go?

— Tron Carter (@TronCarterNLU) June 24, 2020
Not sure who Tron is, but it's a legitimate question…now I'm curious.
The only thing we can hope for is that this weekend goes off without a hitch and people do what they're suppose to. It's concerning to think a lot of these younger guys on tour could be asymptomatic and start spreading the virus without even having a clue they had it. With the free for all that was down in Hilton Head and the fact that the virus takes two weeks in many cases for people to start showing symptoms, we can only hope that these guys don't start dropping like flies come early next week. It certainly has to be on everyone's mind after the mess last week. It must have been craziness if one of your best guys in Justin Thomas is dropping a public quote "they're[Hilton Head] seeming to not take it very seriously. It's an absolute zoo around here."
Comments like that were cause for Jay Monahan to make a statement acknowledging the tour hasn't been handling the restrictions very well thus far.
"I think over the first couple weeks, we've seen some instances where, let's say, we've gotten a little bit lax or away from protocol" Monahan said Wednesday.
Whatever Jay, fix it… We need golf.