This should not come as a surprise with the climate the way it is, but the 2020 Ryder Cup has been postponed. The event would have STUNK without a fans and not sure any of the players wanted to play without the fans.
With the move, the President's Cup will also move back a year. This isn't the first time they've done this. It happened back in 2001 as well following the events of September 11. The PGA of America pumped out this statement today.
The PGA of America, Ryder Cup Europe and the PGA TOUR jointly announced today that both the Ryder Cup and the Presidents Cup have been rescheduled and will now be played one year later than originally planned.

The 43rd Ryder Cup, scheduled for September 22-27, at Whistling Straits in Kohler, Wisconsin, has been rescheduled for September 21-16, 2021. Likewise, the Presidents Cup, initially slated for September 30-October 3, 2021, at Quail Hollow Club in Charlotte, North Carolina, will now be played September 19-25, 2022.
Fans and the Ryder Cup go hand-in-hand. The first tee is always electric. This is from 2018 in Paris.
Goosebumps. That was awesome. As I've said before I'm a Team Europe guy (don't @ me), so I'm obviously biased. Love Rory getting the home crowd juiced up.
The PGA Tour without fans has been tough to get used to, but because we have been missing sports so much we are more accepting. This event is different. Players feed off the energy from the crowd in general, but it's amplified at this team event.
What would that epic Rory-Patrick Reed showdown on Sunday in 2016 be like without fans.
That is just awesome and it was before I truly despised P Reed. I simply just wasn't a fan at that point.
We won't be starved for golf in the fall. If things stay the way we hope then we'll have the US Open in mid-September (9/14-9/20) and that little tournament in Augusta in early November (11/12-11/15).
An extra year will help be storylines. Will the young guns emerge? Will Phil earn his spot or be a captain's pick? Same with TW.
It will also be interesting to see what they do with the qualification process. If they take into account wins and performance this year or start up next fall. I'm sure Webb Simpson has some feelings on that with his form of late.
Between now and the next Ryder Cup there will be 7 majors, 2 Fed-Ex Playoffs and 1 Player's Championship. The standings now could look a lot DIFFERENT.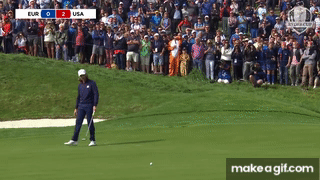 #TeamEurope
FORE!